Citrus NZ is a partner alongside other fruit and vegetable groups in A Lighter Touch: Crop Protection Methods to meet future consumer demands' programme.
With the support of the A Lighter Touch programme Citrus NZ is sponsoring a project to establish model orchards in Gisborne to trial the establishment of cover cropping to enhance natural predators and beneficial insects.
What is the cover cropping initiative?
The intention is to develop an understanding of how overall biodiversity and specific natural predators can be enhanced within a citrus orchard environment to better manage insect pests and to potentially reduce the need for applications of agrichemicals.  While the approach is soundly grounded in science theory, the application to citrus orchards in New Zealand has not been investigated.  For instance, we do not know what plant species might be most effective at providing the resources needed by beneficials, how can these cover crops be established, what beneficials are present in and around the orchard, how these approaches might be integrated into citrus orchard management programmes, and what other co-benefits are there? e.g., weed suppression, improving soil health and nutrition, reducing fungal disease pressure.
A workshop to present the concepts of the project was held in Gisborne on the 17 September.  The Project Team also had the opportunity to visit three of the orchards put forward for the project.  Attendees to the workshop heard about the concepts of IPM, agroecology and floral resourcing from Dr Charles Merfield (BHU Future Farming Centre, Lincoln) and Dr Morgan Shields (Lincoln University), Dr Asha Chhagan from Plant & Food research outlined the key citrus pests that might be targeted by agroecological approaches.  Matt Carter (Citrus NZ Board and Research Committee) outlined the grower orchards and what will be involved in establishing cover crops in citrus orchards.
The orchard transformation is planned to be a stepwise process.  Stage 1 involves the establishment of flowering clovers and alyssum under trees.  Stage 2 is the replacement of the grass strip by beneficial plants such as clover, plantain, perennial ryegrass.  Stage 3 is the addition of annuals (buckwheat, phacelia) between the under-tree vegetation and the grass strip.
Images show an orchard before (top) and after (bottom) transformation.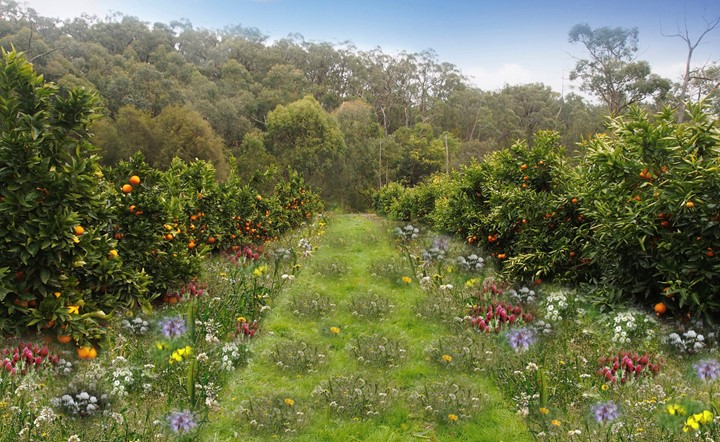 Article by Sally Anderson, Research Manager, Citrus NZ