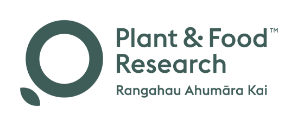 Plant & Food Research is a Crown Research Institute providing scientific research that benefits the horticulture, arable, seafood and processed food industries in New Zealand. It supports the sustainable production of high quality foods that earn a premium in national and international markets through research-based innovation.
Plant & Food Research has extensive experience and a strong network of established relationships across the 'A Lighter Touch' co-investor group of New Zealand's horticulture, wine and arable industries. Plant & Food Research understands their businesses, industries and the growing environment.
The production of more and better food, with reduced environmental impacts and fewer inputs, is enabled through the scientists at Plant & Food Research who work to optimise each step of the production supply chain, from the field to the consumer who wants food that meets their health and sustainability demands.
Plant & Food Research will bring its diverse expertise and knowledge of agroecosystems to 'A Lighter Touch' across a broad mix of research projects in the programme.