New Zealand Persimmon Industry Council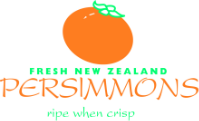 The Persimmon Industry Council represents 30 growers, and 8 packhouses in Gisborne, Auckland, Northland, Waikato, and the Bay of Plenty, and 8 licensed exporters.
Persimmons are a relatively new commercial crop for New Zealand, first exported in 1986. Developed in response to demand from Japan, we now export world wide to markets including Australia, China, Hong Kong, Malaysia, Singapore, Thailand and USA.
The Council's Export Marketing Strategy requires exports to meet minimum quality standards, and for growers to follow 'safe food' principles of orchard management. A Lighter Touch will enable persimmon growers to raise quality while meeting the growing export protocols for safe food and phytosanitary security protocols set by export markets.