New Zealand Feijoa Growers Association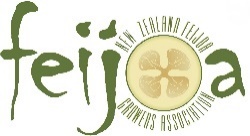 The NZ Feijoa Growers Association represents around 120 growers, across the country, from the north of the South Island to Northland. Feijoas are grown largely to supply the domestic market in fresh fruit and for a wide range of processed products. We recognise that growth will be dependent on growing our export sales which is currently proving difficult because of the short shelf life of the fruit. Two new disease issues are also hitting production and we are working to find effective control options. Export development will be dependent on producing fruit that is pest and disease free and meets the phytosanitary requirements of our potential export markets.
A successful Lighter Touch programme will provide a greater range of options to help us meet our export targets, and also to manage our current production limiting on-orchard issues.